The Future of Events is a Hybrid Model
Event organizers quickly pivoted to virtual events in 2020. This year, virtual is here to stay with a hybrid twist. The hybrid event space provides endless opportunities for event professionals to expand their reach and drive even more connections between attendees, sponsors, and exhibitors.
How do you pull off a successful hybrid event with engaging experiences for both in-person and virtual audiences? Read on to learn what you need to know about hybrid event success by looking at five successful hybrid events in 2021.
What is a Hybrid Event?
Before we get into it, let's define hybrid events. Hybrid events are a blend of in-person and virtual events experiences, with one group experiencing the event in a physical space and the other through an event platform.
The ideal hybrid event should be an immersive experience, where both in-person and virtual attendees can easily engage with the event's content, network with each other, and connect with sponsors.
Here's what a hybrid event isn't:
Streaming in-person presentations to a virtual audience without any attempt to engage the at-home group
Uploading the in-person event experience for the virtual audience to watch on-demand later
Having completely separate experiences for the in-person and virtual audiences, even if concurrent
A successful hybrid event should:
Provide seamless networking opportunities between both audiences through a powerful event technology platform
Create a viewing experience that's engaging for both in-person and at home participants
Make both in-person and virtual experience a top priority. The key here: you're planning two different experiences, but both groups should walk away feeling like they received the same event content.
What are the Benefits of Hybrid Events?
While the emergence of hybrid events present unique challenges for event organizers, this new event format also provides a variety of opportunities and benefits.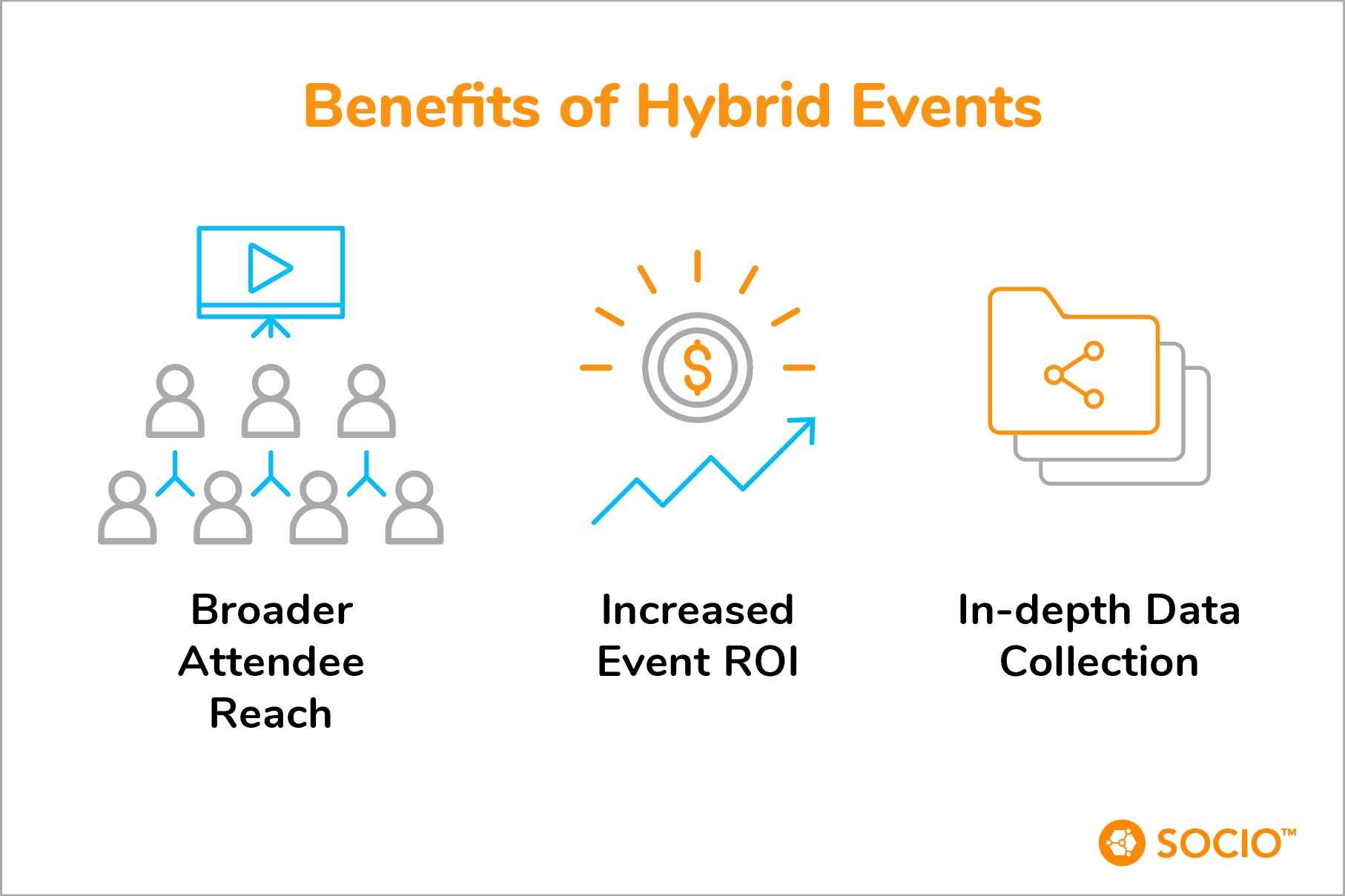 Broader Attendee Reach: Venue capacity, travel limitations, and extra costs can be serious roadblocks for attendees. Adding a virtual layer to your event allows you to reach way more attendees and make your event all the more inclusive.
Increased ROI: Event ROI is a top priority for event professionals. When you add a virtual audience to your event, you can drive ticket sales by selling to both in-person and virtual attendee groups.
In-depth Data Collection: Virtual events offer endless possibilities for data collection. An event platform's ability to offer deep data insights is a must-have. Socio's Live Data Dashboard equips you with a 360-degree view of event data and metrics.
Now that we've covered the hybrid event basics, let's take a look at examples of successful hybrid events. Here are some of our favorite hybrid events from 2021!
1. Winter Workshop 2021
During the summer of 2020, The National Speakers Association (NSA) pivoted their in-person flagship summer event, INFLUENCE, to a highly successful virtual event. When it came time to plan their Winter Workshop, the team knew they wanted to combine a virtual and in-person experience to craft the ultimate hybrid event.
Partnering with Socio, Video West, and professional emcees empowered NSA to produce one of the industry's first, most successful, and truly hybrid events.
Instead of packing three days full of event content, NSA planned weekly virtual warm-ups throughout the month leading up to Winter Workshop. When attendees purchased their ticket, they were given full access to the warm-up sessions and the main event, boosting ticket sales and promoting a little FOMO along the way.
From keeping both audiences engaged and interacting through the Socio Platform to evolving the role of speakers, and solving for safety, AV, and production requirements, NSA took every opportunity to create a seamless hybrid event experience.
NSA's story is exclusively available through our on-demand experience for our latest webinar, When Virtual Meets In-Person: How to Run a Successful Hybrid Event. Register here to gain access.
2. WEC Grapevine
After in-person events halted in 2020, many wondered who would be among the first to bring in-person back on the events roadmap. Meeting Professionals International (MPI) was ready for the challenge.
In November, the largest meeting and event industry association worldwide took the leap and launched their hybrid version of WEC Grapevine. MPI described it in perfect hybrid terms, "two events, planned and executed simultaneously with one remarkable takeaway–– to move our profession into recovery."
To help ease any concerns around meeting in-person, MPI developed a "Duty of Care Plan" which specifically outlined how they were working to ensure a safe environment for all in-person activities.
This hybrid event's end result was nothing short of amazing. The event brought 700 in-person attendees and 1,000 virtual participants into one event featuring a live experience crafted to engage both in-person and virtual audiences.
3. #FinCon21
A digital marketing event for Personal Finance content creators, #FinCon21 is taking the hybrid stage this September with options to attend in-person in Austin Texas or virtually from anywhere.
Keeping a virtual audience engaged is a top priority for hybrid event organizers. #FinCon is going above and beyond to ensure that their at-home participants are getting the most out of the hybrid event.
It's a given that hybrid presentations should be easily accessible by both audiences.
What sets hybrid events apart from the rest is all about ease of networking capabilities for both groups.
At #FinCon21, just as in-person attendees can engage in small group discussions and meet-ups, the virtual audience will be able to interact with in-person attendees via chats and video calls, driving seamless engagement between the event's hybrid audiences.
4. Apple Special Events
Apple is continuously ahead of the technology curve, and their events are no exception. Apple events generate a ton of excitement about new product updates, and their production value sets them apart as a true master of leveraging hybrid events as a way to elevate their brand.
When COVID-19 ruled out in-person events for the foreseeable future, Apple regrouped and came back better than ever. Apple's CEO, Tim Cook, took the in-person stage to roll out the company's latest product updates and innovations, while a virtual audience watched at home.
Apple continues to seize the opportunity to give both their exclusive in-person audience and virtual participants a way to feel a part of a unique hybrid event experience–– one that we'll likely continue to see in 2021 and beyond.
5. When Virtual Meets In-Person: How to Run a Successful Hybrid Event
Okay – we admit, we're a little biased here. This event was a Socio sponsored hybrid event, and we're thrilled with how it turned out. As the world began opening up last year, we heard a common question from our customers: how do you execute a successful hybrid event? Our answer: host an actual hybrid webinar and show our audiences a behind-the-scenes look at how to run a hybrid event.
During a special two hour webinar, we brought together an in-person audience in Indianapolis and a virtual audience tuning in from around the globe.
Our recipe for hybrid event success included:
Exclusive pre-event content and networking
On-site AV team with Meeting Tomorrow
Breakout sessions for in-person and virtual attendees to network
In-app games to drive engagement and some healthy competition
Launch of our hybrid event case study available through the event platform
Event organizers keep hearing that hybrid events are the future, but they want to know how to execute them. An audience favorite from the event was our behind the scenes AV and production walkthrough with our AV partner, Meeting Tomorrow.
Plus, it wouldn't have been a true hybrid event without a hybrid panel featuring Mary Lue Peck, President and CEO, The National Speakers Association (NSA), Katie Brunette, Director of Marketing Strategy & Brand, Lessonly, and Joe Watkins, Chief Customer Officer, Socio.
Power Your Next Hybrid Event with the Right Event Platform
Hybrid events are no small feat, but when you're equipped with the right event platform they can be a highly engaging and immersive experience for both in-person and virtual audiences.
If you're looking for a one stop solution for your in-person, virtual, and hybrid events in 2021 and beyond, Socio has you covered.
Socio is an end-to-end event management platform for live streaming, attendee engagement, sponsorship, 1:1 networking, and advanced analytics.
Discover how Socio can take your hybrid event to the next level. Schedule a personalized demo today.
P.S. You can still be a part of Socio's first ever hybrid event. It's easy–– just register here and learn how Socio powers post-event on-demand experiences.